Global Warming
An issue of major concern is the possible effect of the burning of fossil fuels and other contributors to the increase of carbon dioxide in the atmosphere. The action of carbon dioxide and other greenhouse gases in trapping infrared radiation is called the greenhouse effect. It may measurably increase the overall average temperature of the Earth, which could have disastrous consequences. Sometimes the effects of the greenhouse effect are stated in terms of the albedo of the Earth, the overall average reflection coefficient.
This graphic of the global air temperature was posted by Phil Jones on behalf of the Climatic Research Unit, UK. The key reference used was Brohan, et al.
Another depiction of the mean temperatures in the northern hemisphere was drawn from NOAA.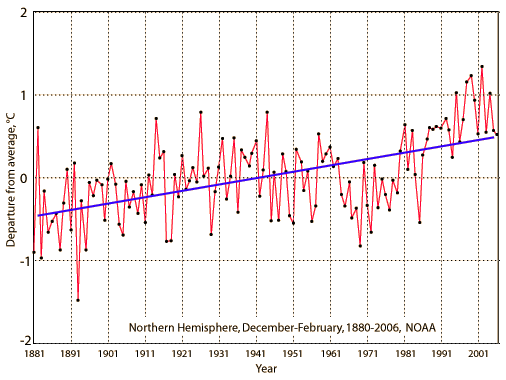 Essentially any kind of tabulation you access will tell the same story. The temperature has gradually risen over the last 150 years.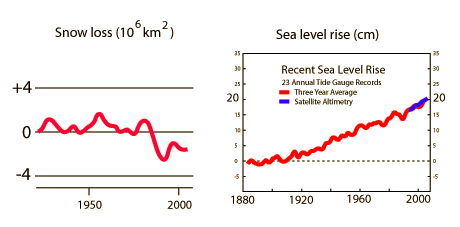 Because the potential consequences of global warming in terms of loss of snow cover, sea level rise, change in weather patterns, etc are so great, it is a major societal concern. On the other hand, proposed measures to reduce human contributions to greenhouse gases can also have great consequences. The large potential impact combined with the ambiguities of the science has given rise to many passionate extremes.
Stephen Schneider of Stanford seems to me to be one of the more balanced voices. His website is a good source for relevant data. He discusses the problems in the context of the Earth's energy balance and the changes in the concentrations of greenhouse gases.