Isospin
Isospin is a term introduced to describe groups of particles which have nearly the same mass, such as the proton and neutron. This doublet of particles is said to have isospin 1/2, with projection +1/2 for the proton and -1/2 for the neutron. The three pions compose a triplet, suggesting isospin 1. The projections are +1 for the positive, 0 and -1 for the neutral and negative pions. Isospin is used as an axis in particle diagrams, with strangeness being the other axis. Isospin is not really spin, and doesn't have the units of angular momentum - the spin term is tacked on because the addition of the isospins follows the same rules as spin.
Isospin is a dimensionless quantity associated with the fact that the strong interaction is independent of electric charge. Any two members of the proton-neutron isospin doublet experience the same strong interaction: proton-proton, proton-neutron, neutron-neutron have the same strong force attraction.
At the quark level, the up and down quarks form an isospin doublet (I=1/2) and the projection I3 = +1/2 is assigned to the up quark and I3 =-1/2 to the down. (The subscript 3 is used here for the third component rather than the z used with spin and orbital angular momentum because most of the literature does so.) The other quarks are assigned isospin I=0. Isospin is related to other quantum numbers for the particles by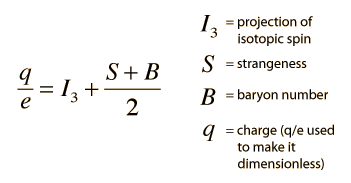 This relationship is called the Gell Mann-Nishijima formula. Some references use T for isospin, but it appears that most use I for isospin and T for weak isospin.
Isospin is associated with a conservation law which requires strong interaction decays to conserve isospin, as illustrated by the process
which does not involve any transmutation of quarks, so would be expected to decay by strong interaction. However, it does not conserve isospin, and is observed to decay by the electromagnetic interaction, but not by the strong interaction. The experimental discrimination is made by the observation of its decay lifetime, presuming by the totalitarian principle that if it could decay by the strong interaction, it would.