Color
It is common practice to define pure colors in terms of the wavelengths of light as shown. This works well for spectral colors but it is found that many different combinations of light wavelengths can produce the same perception of color.
This progression from left to right is from long wavelength to short wavelength, and from low frequency to high frequency light. The wavelengths are commonly expressed in nanometers (1 nm = 10-9 m). The visible spectrum is roughly from 700 nm (red end) to 400 nm (violet end). The letter I in the sequence above is for indigo - no longer commonly used as a color name. It is included above strictly for the reason of making the sequence easier to say as a mnemonic, like a person's name: Roy G. Biv - a tradition in the discussion of color. The University of Walkato posts a suggested set of characteristic wavelengths to associate with the colors.

Wavelengths
for ROYGBIV
Violet
400nm
Indigo
425nm
Blue
470nm
Green
550nm
Yellow
600nm
Orange
630nm
Red
665nm
The inherently distinguishable characteristics of color are hue, saturation, and brightness. Color measurement systems characterize colors in various parameters which relate to hue, saturation, and brightness. They include the subjective Munsell and Ostwald systems and the quantitative CIE color system.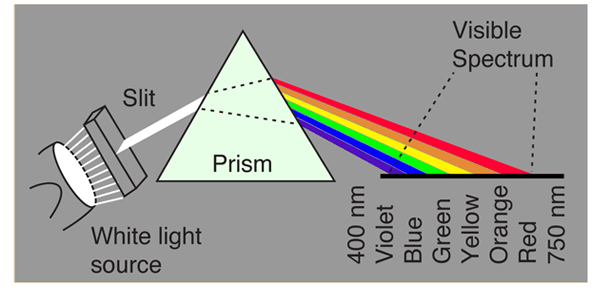 White light, or nearly white light from the Sun, contains a continuous distribution of wavelengths. The light from the Sun is essentially that of a blackbody radiator at 5780 K. The wavelengths (spectral colors) of white light can be separated by a dispersive medium like a prism. Even more effective separation can be achieved with a diffraction grating.
Index
Vision concepts
Color vision
Visible spectrum