Equal Volumes Feel Equal Buoyant Forces
Suppose you had equal sized balls of cork, aluminum and lead, with respective specific gravities of 0.2, 2.7, and 11.3 . If the volume of each is 10 cubic centimeters then their masses are 2, 27, and 113 gm.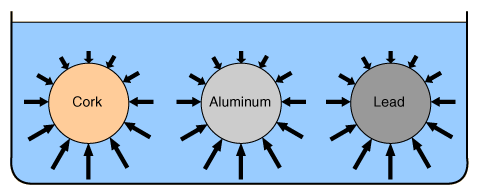 Each would displace 10 grams of water, yielding apparent masses of -8 (the cork would accelerate upward), 17 and 103 grams respectively.
The behavior of the three balls would certainly be different upon release from rest in the water. The cork would bob up, the aluminum would sink, and the lead would sink more rapidly. But the buoyant force on each is the same because of identical pressure environments and equal water displacement. The difference in behavior comes from the comparison of that buoyant force with the weight of the object.
Index
Buoyancy
Buoyancy concepts