Fluorescence
If a high energy photon is absorbed by an atom or molecule by exciting an electron and then quickly undergoes some interaction with the crystal lattice or some collisional process, the excited electron can be transferred to a lower quantum state. If the electron then makes a transition back to its original state, then the photon emitted will be of lower photon energy and longer wavelength.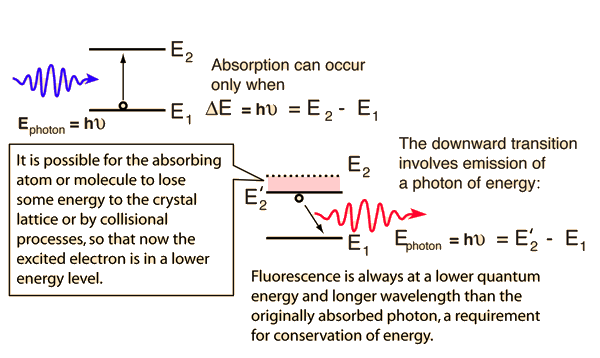 There are many useful applications of fluorescence. The common "fluorescent lighting" makes use of the fact that certain phosphors will fluoresce at numerous wavelengths in the visible light range when they are bombarded with light in the ultraviolet. Since the mercury vapor in fluorescent lights has strong emission in the ultraviolet when electrically excited, that UV light can cause the phosphor coatings on the tubes to fluoresce in the visible, producing a light source much more efficient than incandescent lights.
Many minerals fluoresce and you can see a visible glow when you illuminate them with ultraviolet light. Fluorescence can be a useful tool for the study of minerals. With some systems you can do extensive fluorescence spectroscopy by bombarding with high energy photons and measuring the spectrum of light produced by fluorescence. Often xrays are used as a source and the photons emitted by fluorescence in the UV and visible are studied.
Many types of butterflies are fluorescent and will glow in the visible when illuminated with ultraviolet light. Fluorescence can cause objects to appear brighter if short wavelength light is absorbed and they give the light back by fluorescence at longer wavelengths. Some kinds of whitening agents for clothing make use of this principle - the detergent may have a fluroescent agent in it which picks up the short wavelength part of sunlight and reemits it by fluorescence in the longer wavelength visible range.