Decibels
The sound intensity I may be expressed in decibels above the standard threshold of hearing I0. The expression is

The logarithm involved is just the power of ten of the sound intensity expressed as a multiple of the threshold of hearing intensity. Example: If I = 10,000 times the threshold, then the ratio of the intensity to the threshold intensity is 104, the power of ten is 4, and the intensity is 40 dB: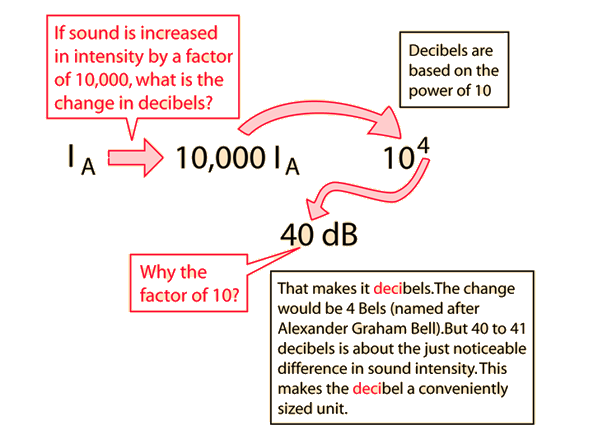 The factor of 10 multiplying the logarithm makes it decibels instead of Bels, and is included because about 1 decibel is the just noticeable difference (JND) in sound intensity for the normal human ear.
Decibels provide a relative measure of sound intensity. The unit is based on powers of 10 to give a manageable range of numbers to encompass the wide range of the human hearing response, from the standard threshold of hearing at 1000 Hz to the threshold of pain at some ten trillion times that intensity.
Another consideration which prompts the use of powers of 10 for sound measurement is the rule of thumb for loudness: it takes about 10 times the intensity to sound twice as loud.