Experimenters:Bob Gobron, Kiyra Holt, David Patton
One of the unique properties of holograms is that the size of the viewed image scales with the wavelength of the viewing light. At left is a view of a hologram of the end of a pipe formed with light from a mercury vapor tube. The mercury source has three prominent wavelengths and you can see three distinct images of different size.
Measuring the relative size of the images compared to the blue image (435.8 nm) gives 1.26 for the green (546.1 nm) and 1.36 for the yellow-orange image (576.9 and 579.1 nm). The scaling of the wavelengths relative to the blue wavelength gives 1.25 for the green and an average of 1.33 for the yellow-orange lines, so the image sizes appear to scale with the wavelength.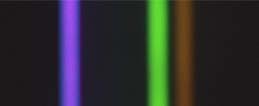 Mercury spectrum
The lower image shows the same hologram viewed with the mercury source filtered by an interference filter which transmits only the mercury green line.