What do you mean by average force?
The net external force on a constant mass object obeys Newton's second law, Fnet external=ma. The most straightforward way to approach the concept of average force is to multiply the constant mass times the average acceleration, and in that approach the average force is an average over time. Another approach that is valuable for assessing the impact force in high speed collisions is to use the impulse of force. When you strike a golf ball with a club, if you can measure the momentum of the golf ball and also measure the time of impact, you can divide the momentum change by the time to get the average force of impact. This average force is also an average over time.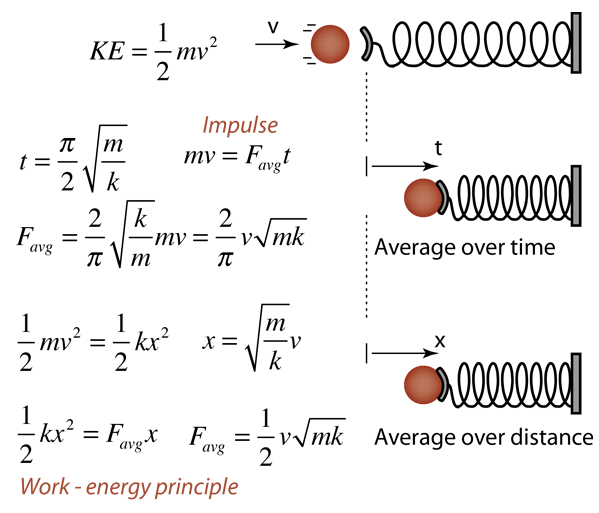 There are, however, situations in which the distance traveled in a collision is readily measured while the time of the collision is not. In a case like a car crash with a tree, one can measure the distance of the collision and use the work-energy principle to evaluate the average of the force over the distance. Such an average over distance is not the same as the time average of force, but it is nevertheless useful in a case like evaluating the wisdom of wearing your seatbelt at all times in your automobile because without it, your stopping distance in a collision will be much shorter, and the average force on you much greater.
In the example illustrated above, a ball is brought to rest by impact with a spring. This provides an opportunity to evaluate the force average over time and the force average over distance. To make the comparison, the nature of simple harmonic motion is used, and the time to bring the ball to rest is one-fourth of a period of the periodic motion. The elastic motion would follow Hooke's law with a force constant k. The work-energy principle may also be applied, using the fact that in stopping the ball, the kinetic energy would be converted to spring potential energy. It is clear that the two approaches to an average force are not the same, although in this physical system they are proportional.
To provide a numerical example, consider a 1 kg mass traveling at 10 m/s that strikes a spring with spring constant k=10 N/m. This system would have a natural oscillation period of 1.99 seconds. So the time to stop the mass would be about a half second and the time average of force would be 20.1 Newtons. Using the work-energy principle to evaluate the distance average gives 15.8 Newtons.
Index
Collision concepts
Physics Forums