The two slightly separated balls dropped from the same height are seen by a ground observer to approach the surface with velocity v.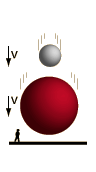 A ground observer sees the larger ball hit and bounce up with velocity v while the smaller one still approaches. An observer on the larger ball would see the smaller one approach with velocity 2v. That observer would see the surface receding with velocity v.

Assuming perfectly elastic collisions and that the large ball is much more massive than the small one, the observer on the large ball will see the small one bounce back with velocity 2v. A ground observer would see the velocity of the small ball as 3v.