Velocity of Idealized Ocean Waves
The velocity of idealized traveling waves on the ocean is wavelength dependent and for shallow enough depths, it also depends upon the depth of the water. The wave speed is

In deep water, the hyperbolic tangent in the expression approaches 1, so the first term in the square root determines the deep water speed. The limits on the tanh function are

so the limiting cases for the velocity expression are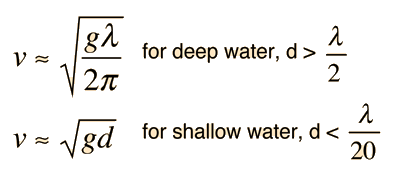 While this wave speed calculation may be a good approximation of the experimental wave speed, it cannot be depended upon as a precise description of the speed. It presumes an ideal fluid, level bottom, idealized waveshape, etc. It is also the speed of a progressive wave with respect to the liquid and therefore does not include any current speed of the water. In technical literature, this speed with respect to the liquid is called the "celerity" of the wave.
Index

Ocean Waves-Their Energy and Power, Ned Mayo, Physics Teacher 35, September 1997 p352

Waves and Beaches, Willard Bascom, Doubleday, 1964 p58-59.