Refrigerator
If you place your hand behind an operating refrigerator, you will notice that this area is warmer than the room temperature. Or you may notice that the refrigerator blows warm air on your feet as you stand in front of it. Yet the interior of the freezing compartment is very cold! The refrigerator is taking energy from the freezing compartment, making it colder, and exhausting that heat to the room, making it warmer.
A refrigerator is a heat engine in which work is done on a refrigerant substance in order to collect energy from a cold region and exhaust it in a higher temperature region, thereby further cooling the cold region.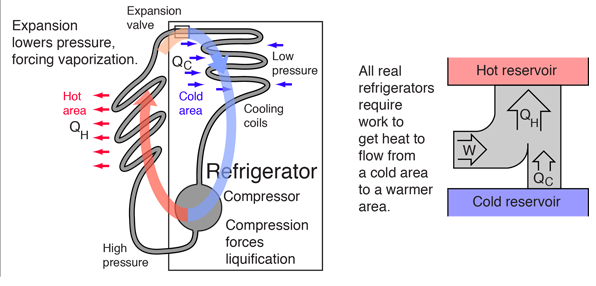 Refrigerators have made use of fluorinated hydrocarbons with trade names like Freon-12, Freon-22, etc. which can be forced to evaporate and then condense by successively lowering and raising the pressure. They can therefore "pump" energy from a cold region to a hotter region by extracting the heat of vaporization from the cold region and dumping it in the hotter region outside the refrigerator. The statements about refrigerators apply to air conditioners and heat pumps, which embody the same principles.
Although this process works very well and has been in place for decades, the bad news about it is that fluorinated hydrocarbons released into the atmosphere are potent agents for the destruction of the ozone in the upper atmosphere. Therefore tighter and tighter restrictions are being placed on their use.