Hydraulic Brakes
The wheel cylinder of hydraulic drum brakes acts as a double hydraulic press in that the pressure in the input line from the brake pedal is exerted in both directions on the movable wheel cylinder pistons. In both directions, this multiplies the force on the fluid by the ratio of the area of the cylinder to the area of the supply line.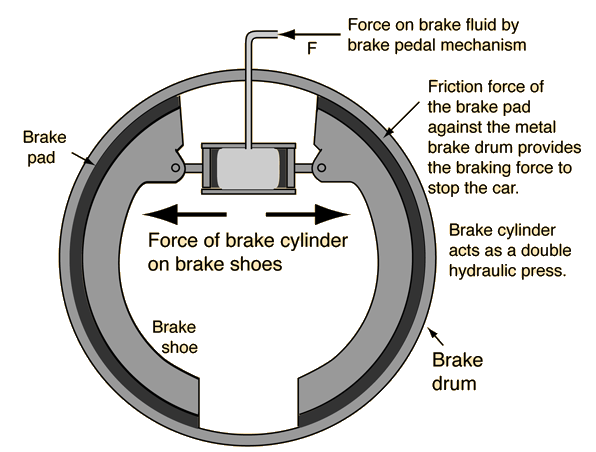 Besides the muliplication of force achieved, Pascal's principle guarantees that the pressure is transmitted equally to all parts of the enclosed fluid system. This gives straight-line braking unless there is a fluid leak or something to cause a significant difference in the friction of the surfaces.
A practical problem with four-wheel hydraulic brakes is that the front of the car will tend to "dive" upon braking. This means that the front of the car tends to drop because the braking force on the front wheels in particular acts to produce a torque that rotates the front of the car downward. This tendency is alleviated somewhat with "anti-dive" brakes which have more braking force exerted by the rear wheels than the front. This is accomplished by making the rear wheel cylinders larger than those in the front wheels. This gives a larger force multiplication with those rear "hydraulic presses" with the same pressure, keeping the straight-line braking but exerting more of it with the rear wheels.