Chloroplast Structure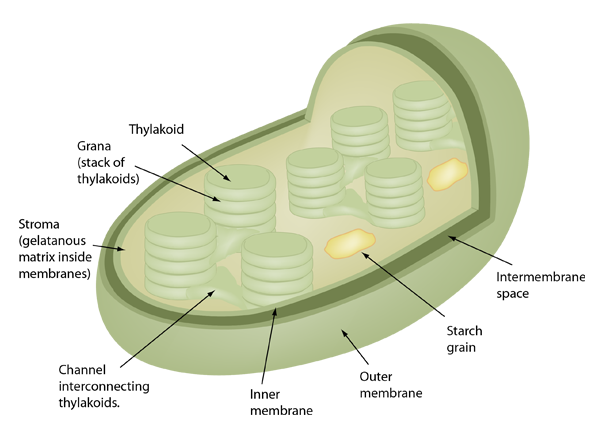 Plants use energy from the sun in tiny energy factories called chloroplasts. The green color of leaves is attributable largely to these chloroplasts because they contain chlorophyll for photosynthesis. Though obviously oversimplified, the illustration depicts the somewhat elongated sausage type shape with large dimension 5-10 μm and smaller dimension 3-4 μm. Moore suggests 40-200 chloroplasts per photosynthetic cell and about 500,000 per square millimeter of leaf area.
There are two membranes, and inside the inner membrane is the gelatanous matrix called the stroma. The stroma contains ribosomes, DNA, and is the location for biochemical synthesis. Membranous sacs called thylakoids are arranged in stacks called grana. The chlorophyll in the thylakoid membranes carries out photosynthesis.
The similarity of the thylakoid structures in the chloroplasts of plants to the photosynthetic structures in ancient cyanobacteria has led to the proposal that cyanobacteria were the origin of those chloroplasts by a process called endosymbiosis into the developing plant forms.